FriendAbility: A Tale of Two Down syndrome Diagnoses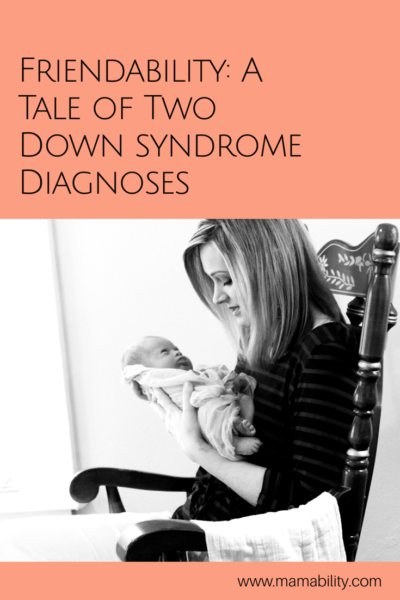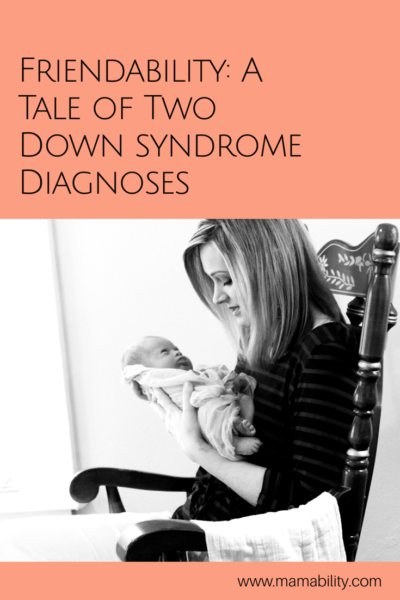 Got a little story for ya Ags! And if you're not an Ag, I've still got a little story for ya. Once upon a time a young 18-year-old named Cara, embarked on one of the greatest adventures of her life – college. Young Cara spent her formative years in small-town Texas until she graduated from high school, and joined one of the greatest communities there is — the Aggie community. Since young Cara attended the same small-town Texas school system from Kindergarten until high school graduation, she wasn't entirely sure how to make new friends in such a large community. But young Cara quickly figured it out, and over the course of her undergraduate career, met a lot of incredible friends including Tootie, Dubs, Lease, Gee-off, Carolyn Baby, and Pouty Lou Fish (pseudonyms have been assigned to these friends to protect their identities, but please know, these are the actual names these people answered to while in college). Young, small-town Cara made so many friends in fact, that she gained quite a few roommates while moving from dorm to dorm, apartment to apartment, and finally to a bachelorette pad on the outskirts of her university's campus. Cara's dad counted up the number of times he moved her to a different residence, and he speculates that it's around 14 times (sorry about that Dad). During one such transition, Cara met her dear friend Lease. Lease and Cara shared a duplex unit for one summer – the summer of 1999. Also known as, the greatest summer of their lives. The. Greatest. So great, that Cara and Lease became lifelong friends. But like most college roommates that become lifelong friends, Cara and Lease parted ways after graduation when Lease moved back to her hometown in South Texas and Cara moved back to her hometown in North Texas. Occasionally, however, Cara and Lease would meet up in various locations and relive the old days, as if no time had passed. These meet-ups came to an abrupt halt in 2007, however, when Lease called Cara to share the news that she and her husband were expecting a little baby. While Cara was thrilled for Lease, she was a little sad that her running buddy was finally settling down. Several months later, Lease shared the good news that she had given birth to a precious baby girl, Baby A. Cara sent a beautiful floral arrangement to Lease and texted a hearty "congratulations!" And a few days later, she called her good friend to check on her. To Cara's surprise, however, her good friend Lease was crying. "Baby A has some feeding and tone issues," Lease said. "They think she has Down syndrome."
Here's where I'm going to take this blog entry first person, now. In that moment, the moment that Lease confided her new baby's potential diagnosis of Down syndrome, my heart sank for my dear friend. I have no idea how I responded to Lease. To this day, I wish I could remember. I hope I said something comforting, but I fear I might have blurted one of the cliché responses that we encountered after sharing the news of Everett's diagnosis. Regardless, I do remember doing a lot of listening and I remember asking her when she would find out the results of Baby A's karyotype blood test. "Two weeks," she said. I'm sure those two weeks seemed like a lifetime to Lease. It certainly seemed like a lifetime to me. During those two weeks, I did some research for my girl Lease. Through that research, I learned a lot of useful information about Down syndrome and I felt more prepared to talk about it with her the next time we chatted. I checked in on her during those two weeks by text, and called her when I thought she had the results and was ready to talk about it. Lease informed me that the results came back negative for Down syndrome, and I'll never forget what she said afterward. "We were prepared to accept any results we were given." She was so strong, and in such a good place about it all. And in that moment, I remember beaming with pride for my college best friend – now a mama, ready to tackle the world regardless of what was headed her way. Fast-forward nearly six years, and I found myself in circumstances nearly identical to my dear friend's. We waited around a week to get a definitive diagnosis via Everett's karyotype blood work (I recall appreciating the fact that we did not have to wait 14 days, like my girl Lease did back in 2007). A lot of thoughts were cycling through my brain during that wait period, but throughout that week and the weeks to come, I found so much hope and solace in the fact that I actually knew someone, who also happened to be my best friend, who had gone through something similar. And even though I was too shattered to reach out to anyone, including Lease for a while, I found so much comfort in knowing that. Our results were different, but that didn't matter. My girl Lease – she had walked through the valley just like me. And if she could come out of those two weeks, better and stronger…so could I.
I've written about this before, but in the early days we didn't reach out to many people. Literally, every local friend I had at the time had just given birth to typically developing baby boys. Mine was the one with Down syndrome. That may sound harsh, but it's the truth. And at the time, I felt like no one else on the planet understood what we were dealing with. Everyone else had typically developing babies, and they were focused on typically developing milestones and events. And no one seemed to know how to respond to the news of Everett's diagnosis. So we kept Everett's diagnosis to ourselves during that time, and only let a few people in…family and a few church friends. About two weeks after Everett was born, Vic returned to work. I was on summer break, so I was left alone with my
new baby. It was a dark, scary, and lonely time for me. I vividly recall on one of those lonely afternoons, out the blue, I got a call from Lease. I immediately caught her up to speed and shared that Everett's karyotype results had come back positive for Trisomy 21. She responded in vintage Lease fashion, "Girl, I didn't know you'd been going through all that." And then she informed me that her family was taking a little weekend trip up to North Texas, and that they would all love to meet sweet baby Everett. And so we obliged. Everett was barely two months old but I dressed him up in a newborn polo/shorts set (complete with a stylish coif and newborn topsiders), and we packed him up and headed to our favorite local Tex Mex eatery so Lease and Co. could fawn over him. Lease was in full "mama mode" that night. She instructed her girls (even Baby A, who was now 6!) that they were not to touch the baby. They whined and pleaded so she conceded and said, "You can only touch the tippy, tippy top of his head." Since we were told Everett would have a compromised immune system due to T21, I appreciated that. Then she scrubbed up with Purell and began a snuggle fest like I've never seen before, with sweet little newborn Everett. She even insisted that she needed to feed him a bottle, because I needed to eat my dinner and consume more nutrients post-birth. Vintage Lease – she's a registered dietician – always lecturing on vitamins, minerals, and the latest nutritional practices. And in those moments, on that night, as I caught up with an old friend who just wanted to love on my baby, I started to come out of a slump that was taking entirely too long.
So why am I telling this story? What's the point? And why am I sharing some personal information about one of my closest friends, concerning a deeply personal hardship that she faced? Because I can't help but think that maybe, just maybe, God put Lease in my life for a very specific and important reason. And I can't help but speculate, that perhaps, just perhaps….God knew Lease's hardship, her cross, would prepare me for my own dark hours and how I would cope and respond in the aftermath of those dark hours. Lease – for what it's worth, I know you went through a lot (literally, I know exactly what you went through), but I think you went through it so you could come out on the other side and be a good friend to me when I needed it the most. You, your story, and your precious family pulled me out of an emotional rough patch. And who knows, but that you came into such a position…for just such a time as that. (Ruth 4:14)
---