Halloween 2020 – A Drive-by Trick-or-Treat Scavenger Hunt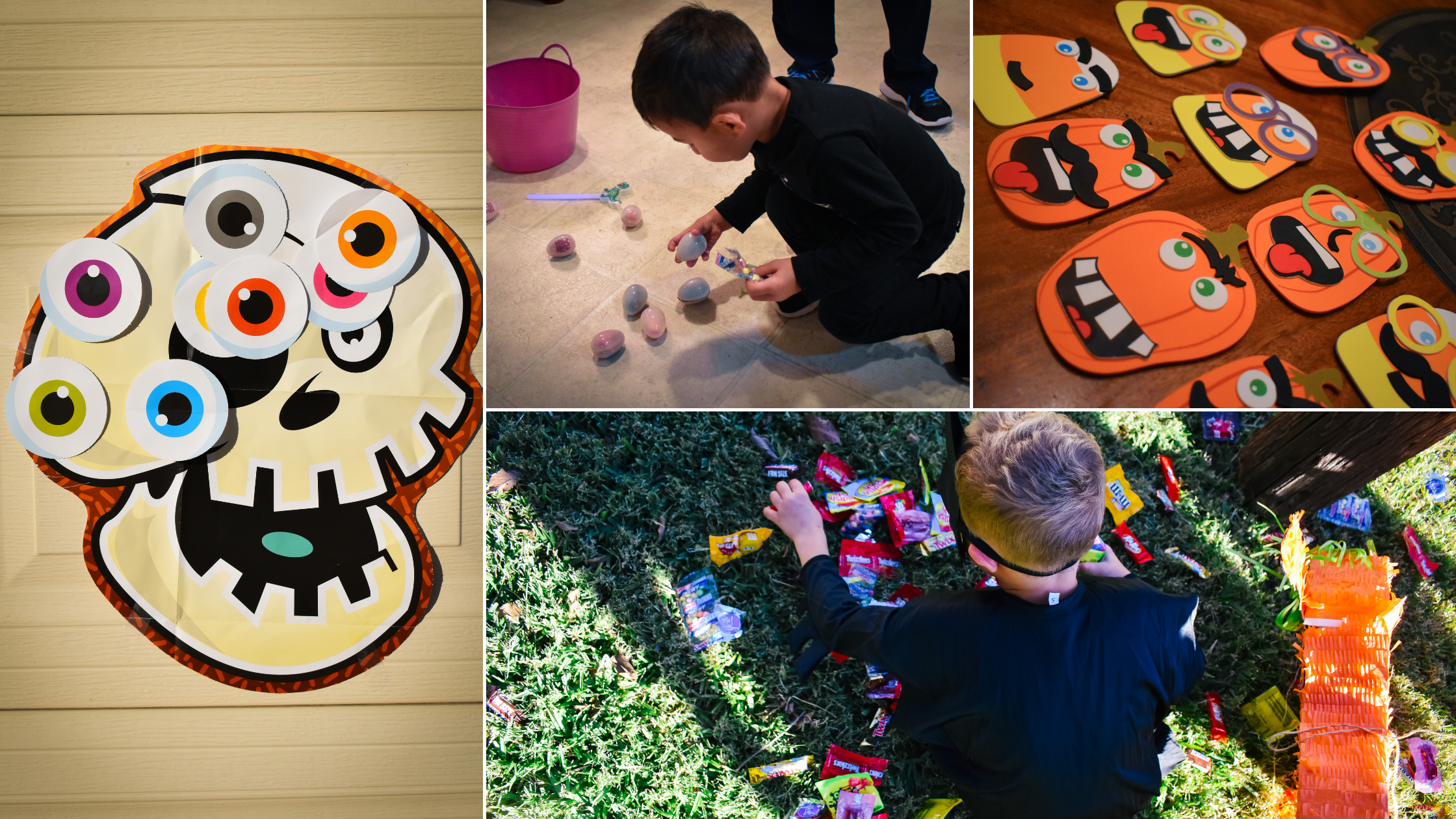 Halloween 2020 – A Drive-by Trick-or-Treat Scavenger Hunt
Halloween 2020 was tricky, but not in your standard Halloween trick-or-treat kind of way.  Covid-19 cases were on the rise across the US and scientists and medical specialists predicted it would mark the beginning of a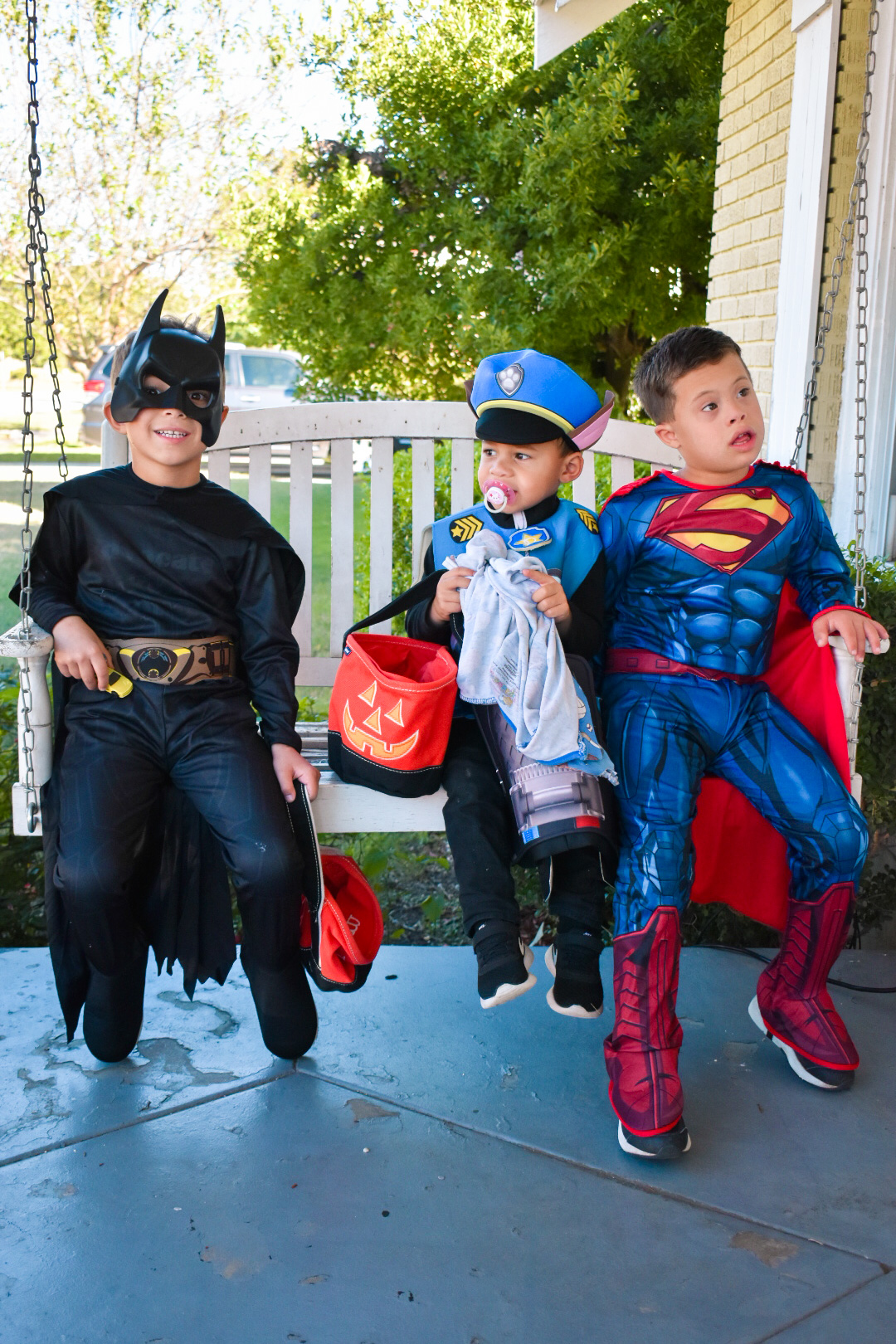 sharp holiday spike in case numbers.  And they were right.  We chose to listen and play it safe last Halloween, which meant yet another holiday celebration fell on my shoulders to organize.  Throughout every event of 2020 I was determined to create socially distanced celebrations for my children that allowed them to celebrate and enjoy birthdays and holidays, in safe and creative ways.  Click here for how we pulled off a really fun drive-by birthday party for my oldest (which we repeated for his younger brothers later that year).
Halloween was tough though.  How do I replicate the innocent fun that comes with trick-or-treating with your cousins and neighborhood kids?  And what about all the grandparents and extended family members who wanted to see the kiddos in their cute costumes and offer up treats and gifts?  Well, after a great deal of thought and research online, I combined and adapted several ideas and concocted the drive-by trick-or-treat scavenger hunt!  And let me tell you…it was a huge hit!  So much of a hit, the kids are begging to do it again next year when I was hoping traditional trick-or-treat patterns would pick back up (which is MUCH easier to plan and execute than an all out socially distanced halloween-themed event).  At any rate, I'm not sure what Halloween 2021 has in store for us but if you're looking for relatively cheap and easy-ish Halloween fun with your kids, keep reading….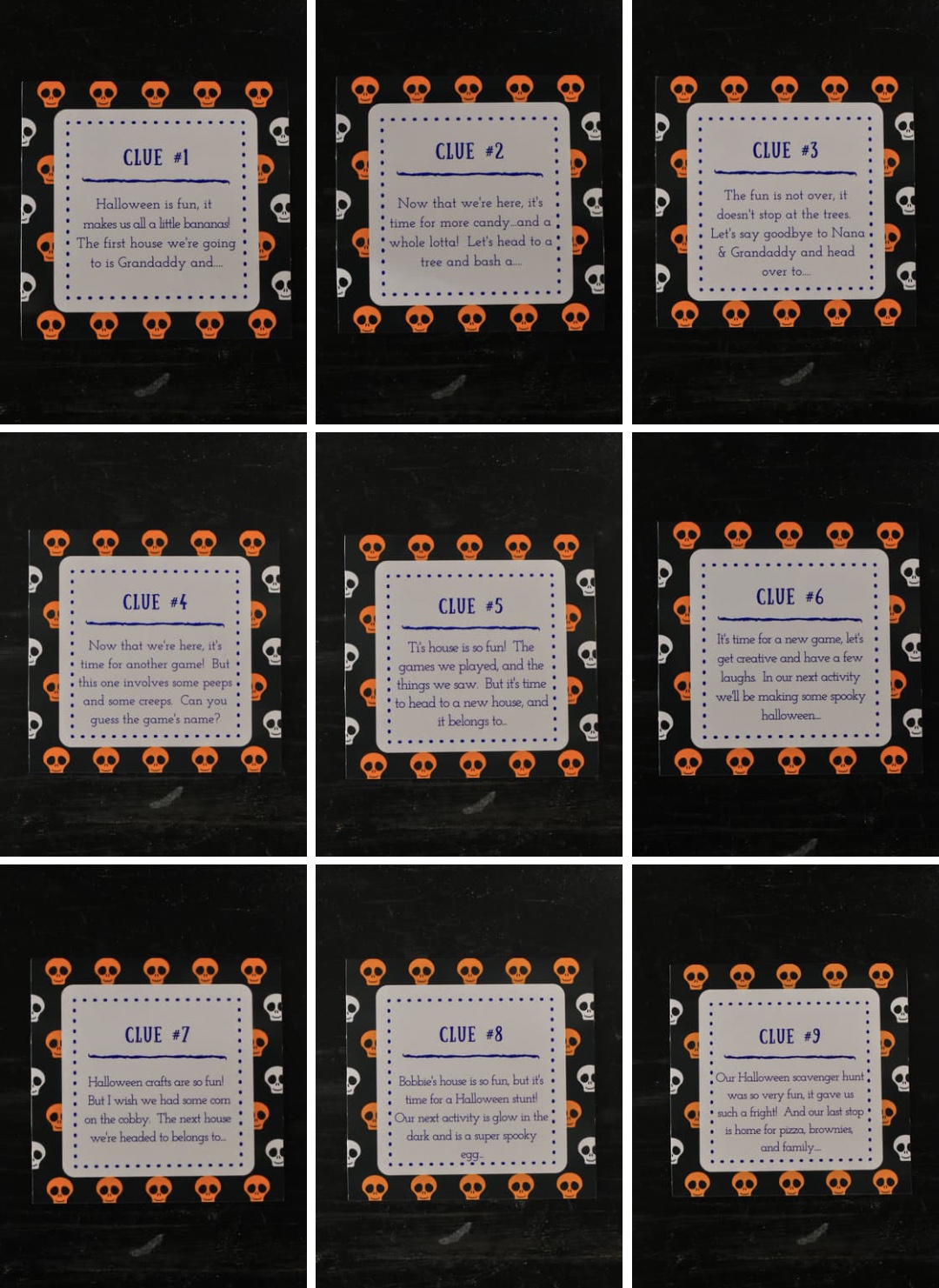 How to Pull off a Drive-by Trick-or-Treat Scavenger Hunt
Step 1:  Decide what houses you want to drive-by and begin creating a schedule.  We are blessed to live near parents, grandparents, and aunts.  We knew they would all enjoy seeing the kids in their costumes and doing a socially distanced trick-or-treat, so we contacted each one of them and arranged to drive by their homes at a certain time.  We ended up organizing the drive-by schedule by route (house closest to us to house furthest away), and set the schedule based on timing.  We wanted to be home by dinner time (when it was dark), so we decided 1 hour for each house would allow for drive time between stops and even a quick outdoor halloween game!  So the schedule ended up looking like this:
Stop 1:  3:00 pm, trick-or-treat @ grandparents and Pinata
Stop 2:  4:00 pm, trick-or-treat @ aunt's house and Pin the Peeper on the Creeper game
Stop 3:  5:00 pm, trick-or-treat @ grandparents and Pumpkin Magnet crafts
Stop 4:  6:00 pm, trick-or-treat @ aunt's house and Glow in the Dark candy egg hunt (perfect timing because it was dusk at 6 pm)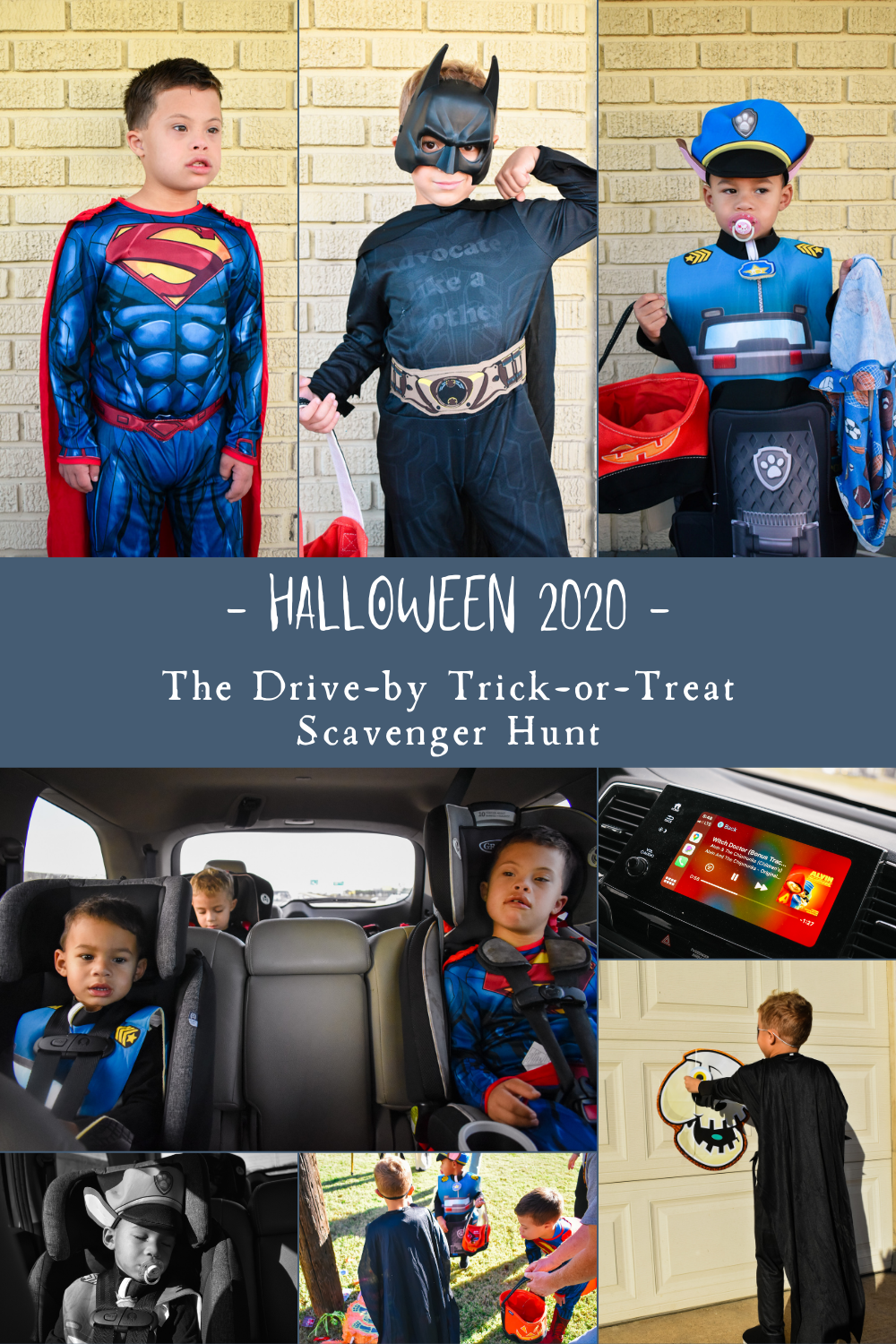 Step 2:  Create the scavenger hunt component with some clue cards!  I used Canva to create mine (right).  I ended up printing them out and reading them to the kids before each stop, and then at the end of each stop (when we were about to leave) and they LOVED the guessing game component!  And since they were made on Canva they were digital which was a good thing because the cards turned up missing at one point, but I was able access them from my phone.
Step 3:  Buy the supplies – candy & games!  My husband bought 2 large bags of Halloween candy from Costco and I purchased all the game supplies from Oriental Trading Company which is definitely a one-stop-shop for all things related to kids and holidays.  You can still purchase the Pinata we used for around $20 (and it was a lot larger than I thought…a VERY good deal imo) and the glow in the dark eggs. With the glow in the dark eggs, though, you have to charge them up under some lights before hiding them or they won't glow.  If timing doesn't allow for this, you may want to go with sticking mini glow sticks in regular eggs.  I saw a lot of ideas about that on Amazon (including this set) and Pinterest including this blog post.
Step 4:  Assemble and organize all the supplies!  You'll need to load candy into the pinata, create prizes after the games (I stuffed candy into snack size ziploc bags to make it look like cool prizes), and the games will need to be packed up but that's pretty easy – Oriental Trading Company did most of the work there with their standard packaging.  And you'll need to stuff all the eggs ahead of time so they're ready to hide at your chosen location.  My goal was to be able to pull out games and easily assemble them outdoors at each stop.  I believe I ended up packing scissors, twine, a pinata stick, and scotch tape (regular and double sided).
Step 5:  Pack up the supplies, put the Target costumes on the kids, read the first clue card, and get going!  We converted the car into a "Halloween train" by calling it that lol, and by playing Halloween music in the car from location to location.  Witch Doctor and Flying Purple People Eater were huge hits with all three boys.  We also made sure the weather was going to cooperate for this event.  In all honesty, if it hadn't, we decided we would do an indoor trick-or-treat and games at our house, which would have been WAY less fun…but I think we could have made it work.  Very grateful the weather allowed us to do outdoor activities where we were more than 6 feet apart from grandparents and relatives, allowing ALL of us to celebrate safely.  **One last thing — don't forget to take lots of photos and videos because your kids are sure to have the time of their lives doing this fun set of activities! –And Happy Halloween scavenging!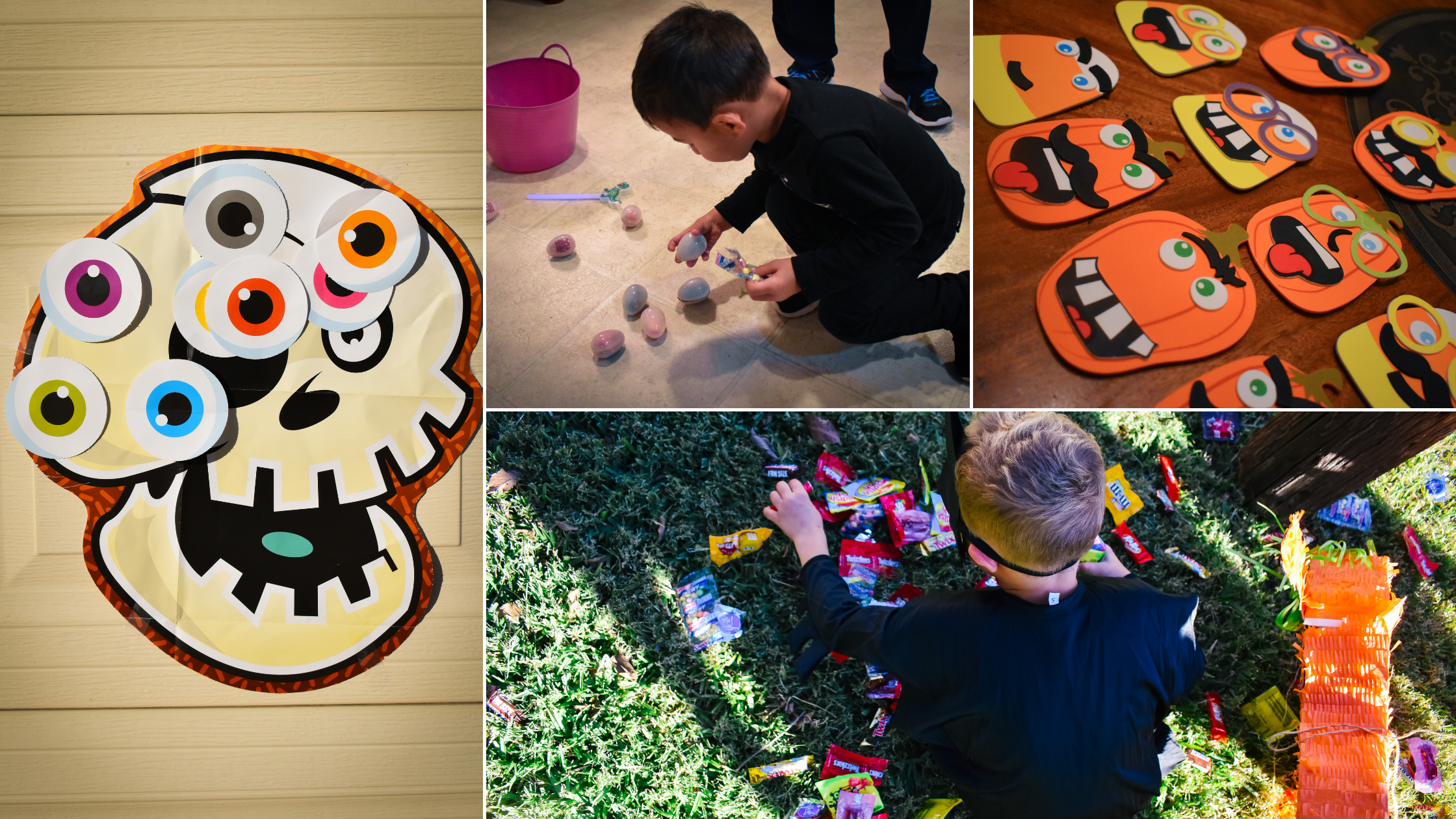 ---