The Drive-by Birthday Party – A trend I hope sticks around!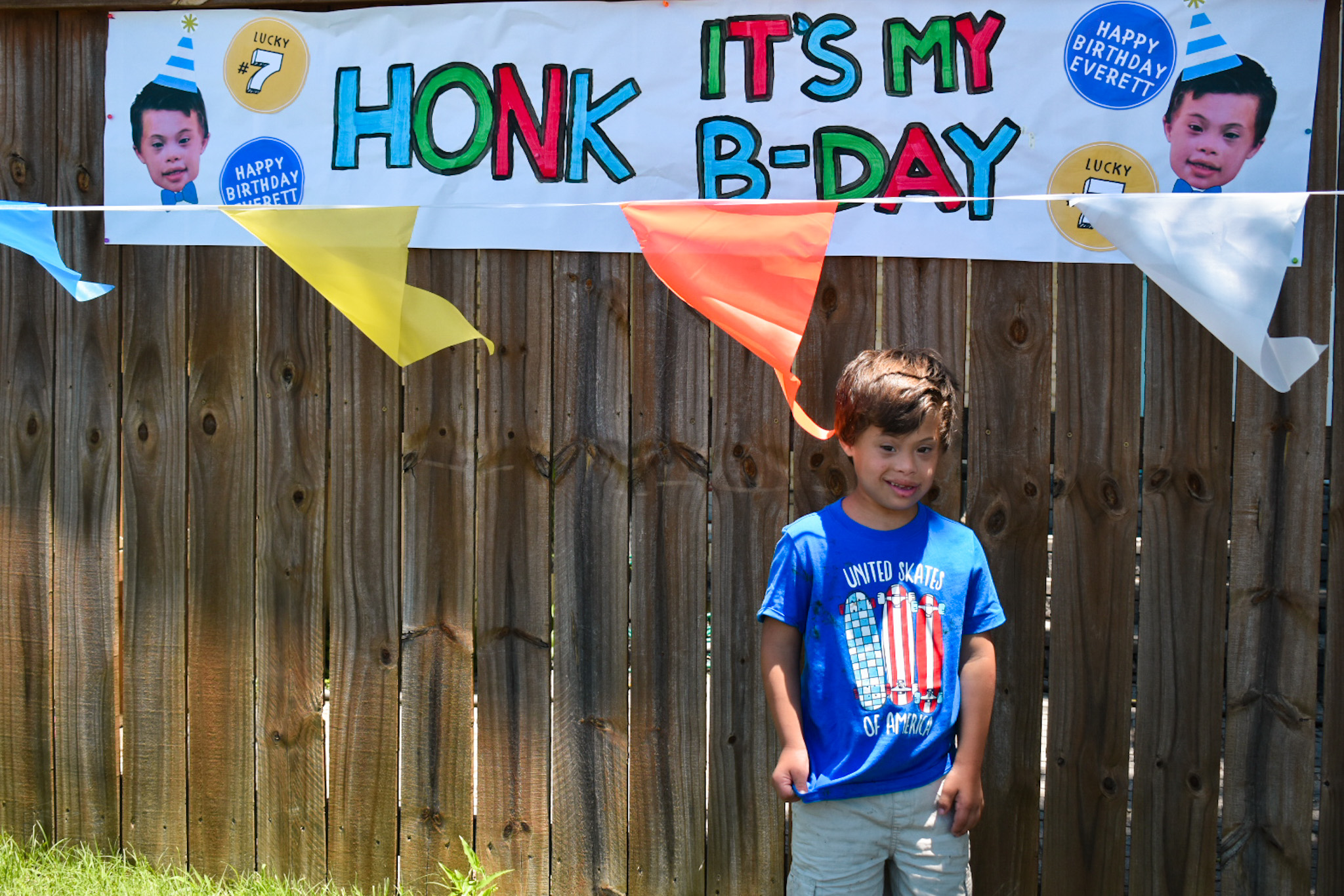 The Neils have always been on board with big blowout birthday parties!  Our boys love a good celebration, as do we, so for the past seven years we've obliged!  Little Gym, Go-Kart tracks, Dream Park, bounce houses, hot dog carts (thank you Austin's Underdawg's)…you name it, we've incorporated it into at least one of our kids' birthday bashes.  And then…..2020…..and the emergence of social-distancing and the "drive-by" birthday party.  When I initially heard about this trend, I brushed it off and suggested we hold off and celebrate our oldest son's birthday (late May) when the lifting of more CDC recommendations allowed for larger gatherings.  But as his big day approached, it just felt odd to not celebrate him as we normally would.  You see, Everett was born and shortly thereafter diagnosed with Down syndrome, so his actual birthday wasn't exactly the celebration it should have been (something I still grieve to this day).  Perhaps every blowout birthday party he's had since then, allows me to cope with that.  But I'm not a psychologist, and quite frankly, I'm very much an introvert….so at the last minute, I decided to let go of the guilt, embrace the "it is what it is" mindset, and organize a quarantine-style, socially-distanced, drive-by birthday party.  And I learned a few things:  1) – This is a really chill way to celebrate your kiddo that everyone seems to enjoy and can participate in, as little or as much as they want to!  2) – It's relatively cheap and super easy.  So here are some quick tips and links I can offer, as a now "drive-by b-day party" veteran.
Tip #1:  It's all about signage
I think it all started when I was followed by Bash Birthday Signs on Instagram and fell in love with their adorable birthday yard signs!  I perused their Insta account and saw several photos of cute signs for boys including a legos sign, a blue patterned sign, a camo sign and other cool birthday colors.  Since Everett is still nonverbal, I downloaded several pictures and asked him to pick which one he wanted and without hesitation – he pointed his crooked little pointer finger on the camo yard sign.  Camo it is bruh.  All three boys loved it and my middle kiddo is now begging for the lego sign for his birthday at the end of this month.  We live on a corner lot, so this got me thinking…why not more signs?  Why not a "honk it's my birthday" sign?  Why not a drive-by birthday party?  It was very much a slippery slope which tells you a lot about how cute those dang signs are!  So I went all out…with a last minute FB invitation to family….and more signs.
As the date approached I decided to work a little Canva magic and create a partially homemade "honk it's my birthday" sign using some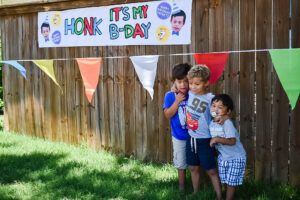 cutouts I designed, Melissa & Doug roll paper, some sponge paint brushes, and my kids' washable crayola paint!  It took me about 2 hours and, honestly, that was the largest chunk of time I devoted to this birthday party (I usually spend days crafting for the perfectly themed party….not this time, nope).  You could probably make a similar sign in a shorter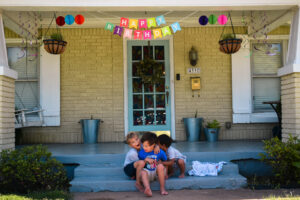 amount of time with similar materials, but I was a little persnickety about this signage because this would be a very visible sign strung up on our corner fence.  And I knew I wanted it for Insta pics (#priorities).  I think it turned out really cute and if you want some Canva tips, I'm not a pro (but I do have a pro account…lol!), I'll be glad to share.  Perhaps a tutorial is in order for my next IGTV post!  Lastly, I also bought some birthday swag and a long, colorful pennant from Amazon.  It took maybe 15 minutes to piece together the swag and tape it up on our front porch, and less time than that to unroll the pennant and string it up across the street side of our house.
Tip #2:  It's also all about easy birthday treats!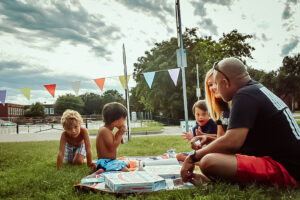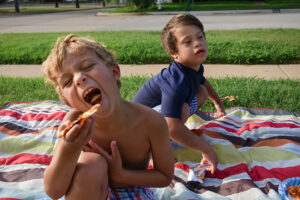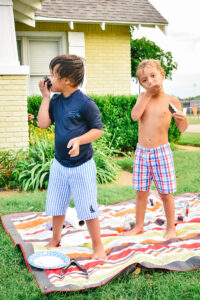 My boy Ev, loves him some pizza and cupcakes.  So we treated him to a family pizza party in the front yard.  And cupcakes from Nothing Bundt Cakes for dessert.  We ordered a few dozen bundtinis and passed them out to drive-by attendees if they wanted some – we plated them by family/car with kitchen tongs and washed our hands after every exchange. We sang happy birthday to him as a little family of 5 after his drive-by birthday party, where he blew out the candles on another bundtini and we ate homemade ice cream (I have two great recipes that take about 10 minutes to make….and then 25 minutes to freeze…perhaps another tutorial?).
Tip #3: It's all about the drive-by
I was surprised at how much fun everyone seemed to have at our little drive-by bash!  It really was a win-win for everyone, as the boys have great-grandparents who are very involved in their lives, and wanted to see Ev on his big day but keep safe by maintaining their distance.  And they really turned it up on the car signage!  My grandparents from Louisiana even threw Mardi Gras beads (LOL)!  I did mention in the FB invite that anyone who blinged out their car and/or blasted child-friendly rap music (or another creative form of celebration) would get a mentions in my Insta stories, but I decided to reward their authentic party-loving little souls right here on my blog.  Loads of pics that you can get inspiration from (to your left) as future attendees of parade-style birthday celebrations!  Big shout out to everyone who showed up and showed out!  Even Ev's gramma and aunt who made a FaceTime cameo in front of the camo sign.
And definitely worth mentioning – some attendees fell into the "at risk" category such as great-grandparents and the birthday boy himself (T21 comes with a host of health stuff, including being more susceptible to viruses and infections, and fighting harder to recover), so we created a lot of options for guests including the option of attending virtually, a quick drive-by and card toss (my aunt did this), cupcakes or no cupcakes, etc.  If you are throwing a parade-style party, please consult the CDC and adhere to their safety precautions.  Be smart.  Be safe.  Be informed.  And if you opt for this kind of a celebration, be prepared to kick back, have fun, and enjoy your kid – some virtues I think get lost in the big blowout gatherings of yesteryear.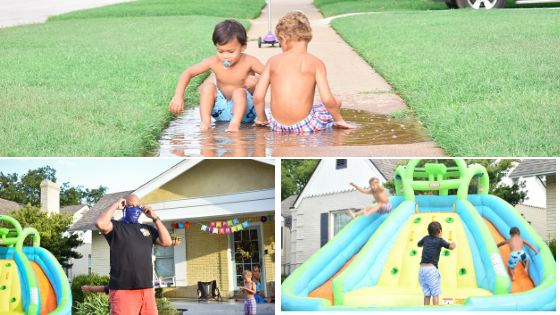 ---