10 Tips to Survive Virtual Learning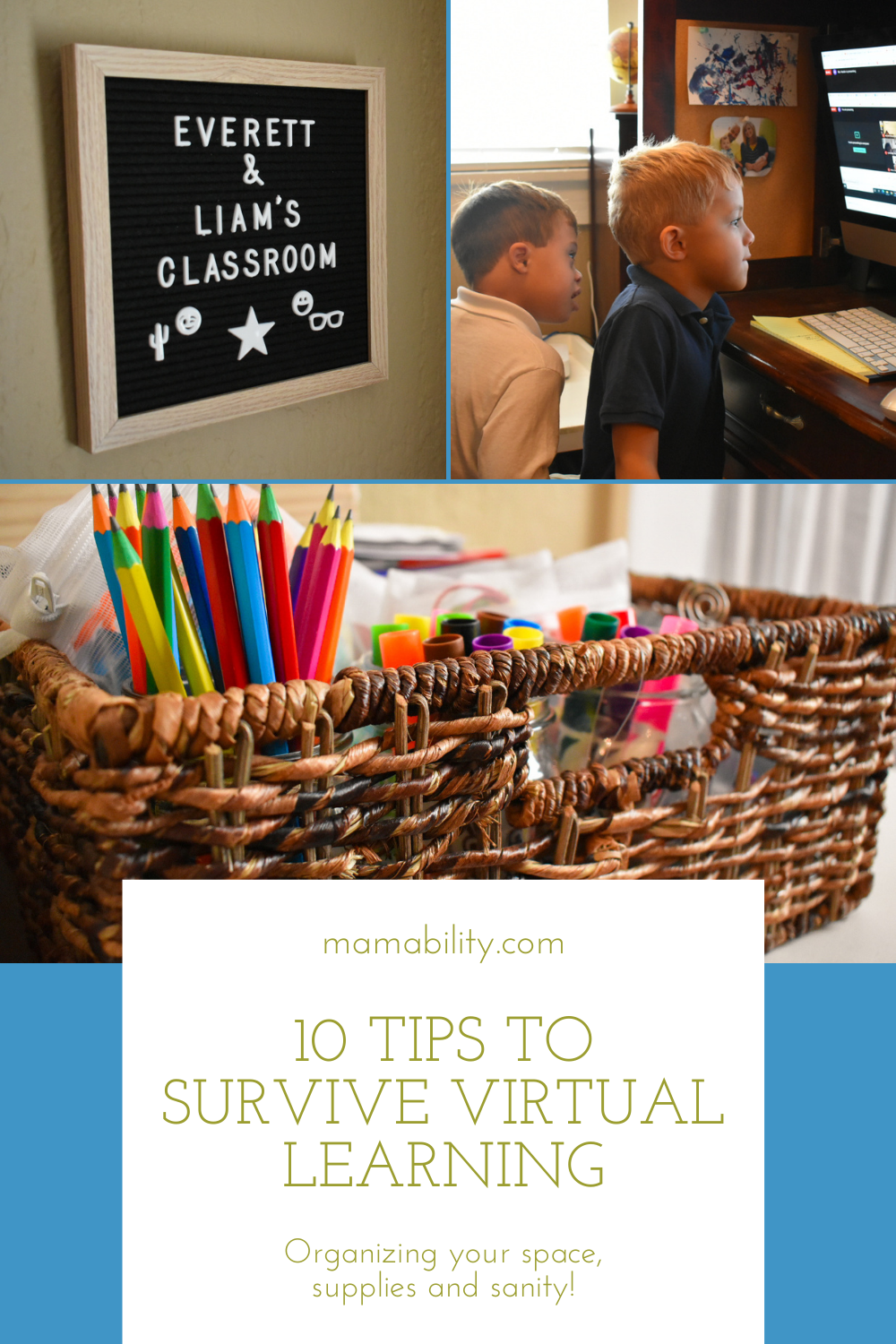 10 Tips to Survive Virtual Learning
I'm going to cut to the chase here.  We had two virtual learners this semester and I was amazed at what their teachers were doing to connect with and teach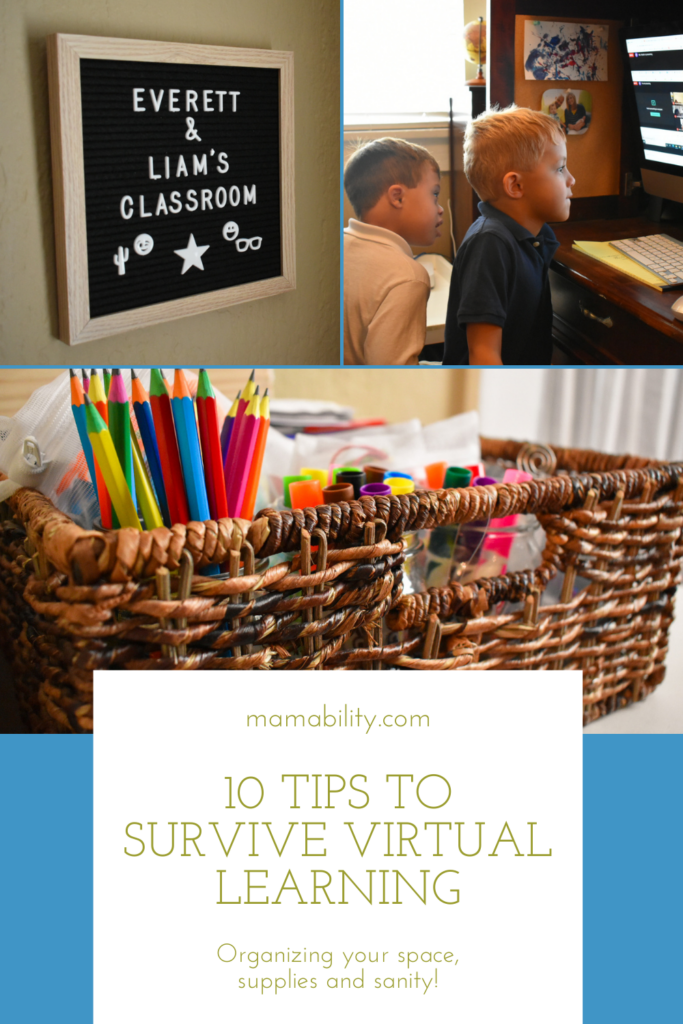 our children.  Simply put, not only are our kiddos' teachers essential to all of us, but they are heroes.  Period.  Having said that, virtual learning isn't exactly ideal for a kindergartener and a first grader who is enrolled in all the things (general education, special education, specials, speech therapy, occupational therapy).  They both required a great deal of assistance from mom and dad and in the end, the hubs and I felt exhausted, underqualified, and underappreciated in our roles as involuntary newly minted virtual learning homeschool teaching assistants.  And as soon as the schoolhouse doors opened up, our kiddos assimilated back into "on-ground" classes and we never looked back.  Okay.  I looked back and worried a few times.  Lots of times actually.  It's the 2020 effect I suppose….so many new choices and none of them lead to positive outcomes and all of them lead to heightened levels of anxiety.  At any rate, the kids are still learning on-campus for now, and looking back…there were several things we did well that helped us survive online learning with two small children, so I thought I would share!  If you find yourself thrown into (or back into) virtual learning with littles, here are some tips that worked for us:
 Select a space in your home, and make it your new virtual learning classroom.  It doesn't have to be an entire room and this doesn't have to involve an extreme makeover.  Any space will work as long as you organize it.  It can be a wall, a corner, a cubby, a closet…any spot you want to dedicate to at-home learning will work.  For example, we transformed our breakfast nook into a home office that has evolved into somewhat of a homework station over the last year, so this was the space we used.
Organize your space.  You'll need some basics like a table or desk, a desk chair (see my suggestions below) and some baskets or drawers for supplies.  Then of course, organize it into submission!  I spent an entire day organizing our space.  The rest of the house looked like a landmine had exploded, but our virtual homeschool classroom was in tip top shape when classes began!  As it should be.  This is going to be your command center for a good while, clean and organize it to the best of your ability.  I also made sure that supplies I knew the kids would need were accessible, including textbooks and learning kits sent home by their teachers.  Shelves and baskets are especially helpful with this!  We also added a huge magnetic dry erase board to this space so we could organize a behavior chart, schedules, passwords/usernames, etc.
Create a backdrop for your space (if necessary).  Our virtual learning space is wide open, which means as our kids log in, classmates and teachers get a great view into our kitchen.  So I purchased a shower curtain rod, a fabric shower curtain, and some shower curtain rings.  Then I assembled it just as I would for a small open stall shower, except in our open doorway.  It created the perfect backdrop for virtual learning where no on was able to peer at me making my 20th cup of coffee for the day in my PJs.  We also added some little touches to get the kids excited about virtual learning, including one of those little Instagram felt boards that labeled our office as "Everett & Liam's Classroom."
Purchase an ergonomic chair for your virtual learner(s).  If you have littles, I would recommend a chair without wheels.  Mine would most certainly turn that into a racing toy of some kind that would most likely lead to injuries.  But, I do recommend getting a chair with adjustable height so you can boost your little boy or girl up where they're visible on your desktop or laptop camera.  If you can find one with a swivel lock, I also highly recommend that.  Ours does not have a swivel lock and the boys drove me crazy spinning around in this chair instead of paying attention to class.
Create a virtual learning weekly schedule.  And print it out and pin it up somewhere very visible.  This will be your game-plan and will keep you sane throughout this entire ordeal.  Set it up prior to the start of virtual learning, but don't be surprised if it changes some.  Many schools new to virtual learning might learn from the process and shift the schedule around a bit that first week, but having a core schedule in place was a HUGE part of our survival success.
Organize a document with your students' zoom links and notes.  It was my job to lead virtual learning on Mondays, Wednesdays, and Fridays.  And my husband lead virtual class for the boys on Tuesdays and Thursdays.  We consistently set each other up for success by updating Zoom links and notes for each child in a digital note on our iMac.  Mac's have "notes" that are just blank documents you can access like digital post-its (a Google or Word doc would work for this too).  Whatever links or notes were necessary for the following day, the virtual learning parent du jour would organize that information for the next parent to tee them up.  Zoom links were a click away with this method, and if the meeting required a passcode and/or user ID, they were both easily copied and pasted.  Any special notes about speech therapy, school supplies, assignments due, etc. were frequently included to keep everyone on the same page.
Log into all the programs on all the devices BEFORE virtual learning begins to familiarize yourself with all the apps, as much as possible.  My husband and I both commented, several times, that if we had just assumed virtual school would be a few Zoom links and Class Dojo assignments and we waited until the morning of to log into all the things….it would've been a total disaster!  Fall 2020 virtual school was NOTHING like spring 2020 virtual school for us.  Over the summer, our district had implemented several new systems, including Google Classroom and Google Meets as primary learning platforms (instead of Zoom and a different OLS) and it was INTENSE.  Asynchronous assignments were posted and graded daily.  Lessons were usually synchronous and required preparation and specific supplies.  Long story short, this wasn't spring 2020 anymore where we got to roll into Zoom class a little late, while eating lunch and wearing our favorite comfy PJs.
If your school offers virtual town halls, meetings, or "meet the teacher" events – make an effort to attend.  Every school is different, but I found these meetings VERY informative and a great opportunity to connect with my kiddos' teachers.  For instance, at one town hall meeting we were able to preview the class schedules for our children and we were directed to all of the online learning platforms we would be using before virtual class began!  This gave us a chance to get everything set up on multiple devices ahead of time after we learned Everett & Liam had classes scheduled at the same time, multiple times a week.
Use asynchronous time to work ahead.  One of the perks of virtual learning – is flexibility!  The hubs and I had an agreement.  Whoever was leading virtual school for the day, had to push through as much asynchronous work as they could.  Including working ahead.  We both hold down full time gigs, so this method would give us some time to try to get caught up at our jobs.
Behavior system.  We have two rambunctious little boys who do not like to sit still for long.  So you can imagine how hard it was to get them to sit in front of a computer screen for hours, and then sit still and pay attention while doing the asynchronous work.  I implemented a behavior chart at home that helped a lot with this!  Prizes were awarded for good behavior.  Warnings and no prizes when behavior suffered.  This has evolved into our primary behavior system with personal stuff as well (e.g. not sharing, fighting, talking back, etc.).  It has been VERY effective.  But our kids are very motivated by treats and prizes.  Find a system that motivates your kiddo and stick with it!  Keeping behavior in line was very key in running a smooth virtual learning process.
So there you have it!  These are the tips and tricks that worked for us!  What are some of your survival strategies while doing virtual learning with your kids?
---