Backstage at TEDxACU: Confessions of a TEDx Speaker, Part 1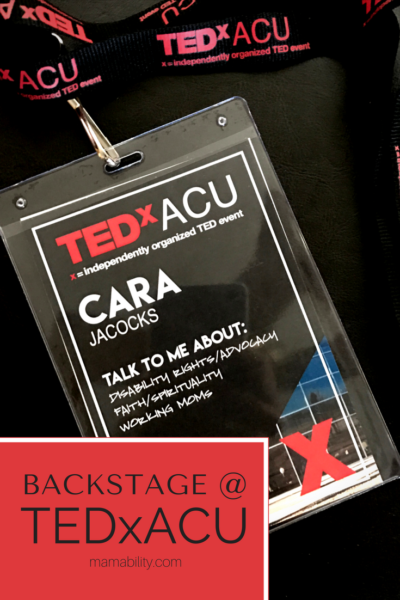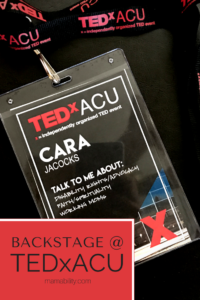 It all began last fall.  A dear friend of mine from graduate school, Lauren, also happens to be the TEDxACU director at Abilene Christian University.  Ironically, even though we are both ACU grads, Lauren and I initially crossed paths as students in Texas A&M University's doctoral program hosted by the Department of Communication.  We were in the same cohort!  Obviously, Lauren and I are friends and we follow each other on social media.  Last September she emailed me to let me know that she thought my social media advocacy efforts related to Down syndrome could be the backdrop of a compelling TEDx presentation.  She encouraged me to submit a proposal to a decision committee formed at ACU and apply to be one of the speakers.  I did, the proposal was accepted, and I delivered my TEDx Talk last March!  But there was a lot of behind the scenes work on my part that I'd like to share, hence this blog entry.  I can only go into detail regarding the work I put into the "talk" and some "backstage" observations I made from my perspective, however.  I'm certain Lauren knows more about the processes and production components that make up these speaking series.
Setting the TEDxACU Stage
In late November, the TEDxACU marketing team released a really cool social media flyer.  I have to create these kinds of plugs for my blog.  For every blog post I publish, I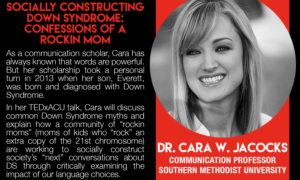 usually create a social media flyer tailored to the platform (e.g. individual flyers for Instagram, Twitter, Facebook and Pinterest).  So, I really appreciated the detail, specialization, and personalization included in the TEDx social media ads. Abilene Christian University has several positions dedicated to technology, marketing, and digital media, and they really are leading the charge when it comes to integrating these processes into every feature of their organization (including both internal and external communications).  I was really excited about the traction this flyer received (ACU was tracking the number of views and hits each flyer received, and it was impressive!).  Inspired by this flyer, I started jotting down on paper (or in my case a Word .doc) exactly what I wanted to say in my talk.
On the heels of the TEDxACU wheels turning, I had recently returned from a conference-style retreat hosted by the DSDN (Down syndrome Diagnosis Network) in Grapevine, TX (the fall 2016 retreat).  I met face-to-face with many of the Rockin' moms with whom I had been in communication with via social media, for years!  They were all so incredible!  Some moms were SAHMs (stay-at-home-moms), dedicated to homeschooling, attending to therapies, nutrition, and the various needs of their child with Down syndrome (and siblings in a lot of cases!).  I was very taken by how much time, thought and energy they put into every aspect of their child's development.  Other moms were FTWMs (full-time-working-moms) and I could relate to the constant struggle they spoke about – feeling torn between their child's needs and their work-related responsibilities.  Many of these moms didn't feel like they had a choice in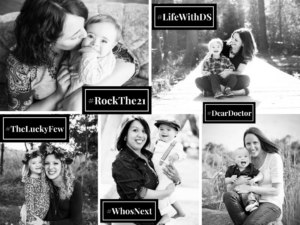 functioning as FTWMs, as they were solely working for the healthcare benefits their children with DS so desperately needed and their employers provided.  And then there was another group of moms dedicated to "mompreneurship."  These moms owned their own physical storefronts, home-based businesses, or remote facilities, and they sold a variety of services and goods.  A great deal of these "mompreneurs" engaged in social commerce as a form of business-ownership.  As a matter of fact, these moms donated quite a few goodies as give-aways and silent auction items (Lula Roe unicorn leggings were a very popular item at this retreat!).  And the icing on the cake?  Hearing two jaw-dropping presentations by Laura Buckner and Sandra Assimotos McElwee.  Two moms who have blazed a trail for inclusion for all kids with disabilities (in other words, some original 'Rockin moms), who also shared some words of wisdom for the newest generation of mamas at this event.  At any rate, I was in awe of this gathering of fierce moms, and the fact that I was a part of such an inspirational community.  Thus, it was a fairly simple decision to focus my "talk" around the DSDN, the Rockin' mom groups, our kids, and our work as social media advocates.  These same moms, my Rockin' moms, contributed photos of themselves and their children that I used to create the TEDxACU slideshow (which I think turned out really well).  I sometimes still look at this slideshow, simply because I am overwhelmed by these beautiful moms and their incredible children, whom I have grown to love and support through our social media interactions.
The TEDxACU Deets
Around December, Lauren sent me an email detailing all the TEDxACU deadlines.  The TEDxACU team also mailed me a wonderful resource – "Talk Like TED: The 9 Public-Speaking Secrets of the World's Top Minds
"  This is a great guide to public speaking in general, but also a great resource for potential TED speakers.  She also mentioned that a first draft/rehearsal of my presentation was due at the beginning of March (March 1st) and that I needed to submit a title for my TEDx talk, a short bio, and a headshot.  There were also several guidelines imposed by the TED office in Vancouver that I should adhere to:
Talks must be 12 – 18 minutes long
Talks cannot: a) sell things, b) support a political party or candidate, or c) proselytize
An exceptional visual aid is encouraged (one of the hallmarks of TED talks)
I'll have to confess, these guidelines seemed daunting to me at first, especially the time limit.  I'm a seasoned public speaker, but how was I going to speak for twelve entire minutes?  Most conference-style presentations I deliver at yearly academic conventions aren't even that long, and these presentations address dense research topics!  Since Lauren requested a simple "read through" of the talk (as our initial rehearsal) by early March, I produced what was asked of me.  On March 1st I emailed her my first "go" at "Socially Constructing Down syndrome," recorded at a whopping TWENTY THREE minutes!  Slightly over the time limit, ha!  Guess I had more to say than I initially thought.  I'll post the original, uncut script behind this TEDx Talk in a future blog post:  Backstage @ TEDxACU:  Confessions of a TEDx speaker, Part 2.
Around mid-March Lauren sent me another email with all the logistical details.  I was to check-in to my hotel room in Abilene, Texas on March 22nd.  I would be the first speaker in the entire live series, and I would deliver my dress rehearsal in Fulks Theater on ACU's campus at 8:30 am on March 23rd.  As someone who is quite familiar with the importance of speaking order when it comes to a round of speeches…I was very pleased to be first!  But like many "first-up" speakers, I was pretty nervous because I also know that the initial speaker in a series, sets the pace and tone for an event.  It was my job to set the bar, and I couldn't let my friend Lauren and my fellow Rockin' moms down!
The 22nd rolled around.  I arranged for childcare for the boys so that Vic could join me on Thursday night of this event for dinner and then attend the live series the next day.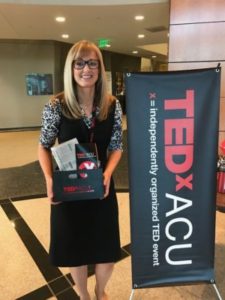 Since I spent a few semesters in Abilene earning my Master's degree, I was eager to show him around and take him to one of my favorite restaurants, Perini Ranch.  Plus, Vic has always been my partner in crime when it comes to public speaking and Down syndrome advocacy.  We've delivered two speeches at two different KinderFrogs fundraising events, and Vic does a smashing job at delivering intros and conclusions (tough job, but someone has to do it, lol).  Even though he wouldn't be a part of this TEDx talk, his moral support and physical presence were important to me.  And I'll have to confess, as I gave him the grand tour of ACU's campus, the downtown area, showed him my old duplex, and ate dinner with him at my favorite restaurant in Buffalo Gap (I've mentioned Perini Ranch to Vic no less than 179 times since we met back in 2005), I couldn't help but be amazed at the winding road God had taken me on.  When I was at this little school back in 2003, I was husbandless, childless, PhD-less, had never worked in academia, and had never owned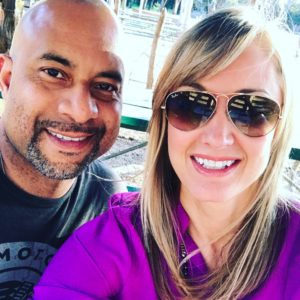 my own home.  And honestly, with the exception of a PhD and homeownership, none of these things were technically on my radar at the time (and there's nothing wrong with that!).  But here I was, 14 years later, and all of the above qualities had done an "about face."  And symbolically I recognized immediately, that this is where it all began, in little old Abilene.  You see, ACU gave me my wings.  I learned a lot as an undergraduate at Texas A&M, but the small, personalized classes that ACU offered at the Masters level gave me a chance to really explore my potential as a writer, academic, and quite frankly, a grown-up.  God had brought me full circle and I was very humbled by the experience.  This was compounded by the fact that I had visited my old department the day prior, and was welcomed with open arms by several of my mentors in the Communication and Sociology Department.  One of my former professors even invited me to be a visitor in his Nonverbal Communication course.  It really took me back to my old GA (graduate assistant) days at ACU.  Days that I cherished.
But after this little walk down memory lane, I knew I had to continue to rehearse the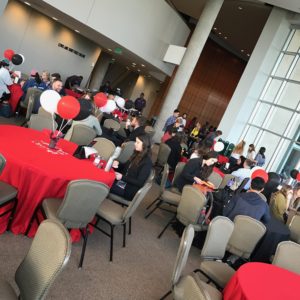 talk.  I had whittled my time down to almost 18 minutes exactly, but I wanted to shorten it even more for some leeway.  Vic timed me three more times before I finally decided to call it quits the night before, when we had it down to 17:30.  And before I knew it, my alarm went off, I rehearsed one last time, my feet hit the floor, and we were at Fulk's Theater on ACU's campus.  When I arrived, I was in complete awe at the level of detail that went into this speaking series.  Quite frankly, it was way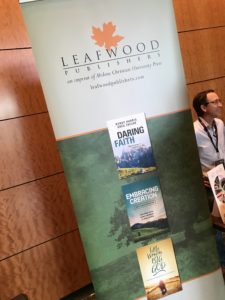 more than just a speaking series.  It was a full-on EVENT!  Upon entering Fulks, there was huge room decorated with red, black, and white TED balloons and table tents and a massive spread of breakfast items and coffee.  Tables were set-up to promote discussion amongst speakers and attendees.  I had no idea how many attendees would actually show, but by the look of it – I speculated somewhere close to 100 – 150.  There were also vendor tables set up where attendees could purchase TED swag, and local organizations (relevant to the event) could offer their services and products.  I was especially taken by some leather products and the ACU press table (I had no idea ACU had such a great book press!).  And I was pleasantly surprised to receive some complimentary swag as a TED speaker!
 The "Talk"
As I took my last gulp of coffee, I glanced at my phone, and sure enough…it was show time!  Lauren had walked me through every production detail of the talk the day before, so I knew exactly where to go, what to do, and when to do it.  And even though I had delivered the exact same talk, almost verbatim, the day before….when they miked (mic) me up before the real deal, and announced and flashed my name across this huge digital screen as I walked out onto that red circle carpet (another TED hallmark), with the theater lights glaring in my face, and a theater full of audience members staring at me….my heart started beating at a rapid pace I've never felt before.  Mind you, again,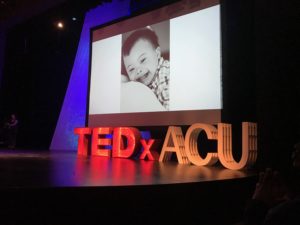 I've got some public speaking experience under my belt.  I used to teach the public speaking class for Pete's sake!  And I've delivered several speeches and presentations in front of very large crowds.  But this…this was next level.  Every lesson I've ever learned and/or taught about public speaking anxiety immediately hit home in those moments after walking on stage.  And I think what made me especially nervous and prompted my rehearsing 1.345 million times, was the fact that this speech needed to be delivered ENTIRELY from memory.  Not my style. At. All.  I usually have notes, a power-point, something.  In this case?  Nada.  The stakes were high, and I had better deliver.  My dress rehearsal was flawless so the pressure was definitely on to deliver with the same flawlessness, from memory, in front of a large live audience, while being video-recorded, with theatrical production components.  Honestly, I'm sweating bullets right now as I type this.  And when I go back and watch the "talk" I can literally hear my own heart beating through the words I'm expressing in the first several seconds.  But shortly into the talk, I focused on the photos of Everett, my message, and all the other amazing kiddos and mommas….and I forgot about all the anxiety.  And I nailed it.
Since my talk was the first in the series, I got to sit back and enjoy the rest of the show with Vic afterward. And I have another confession, there were some amazing speakers in the 2017 TEDxACU lineup!  I highly recommend visiting the 2017 series page and watching each talk.  Or better yet, if you're anywhere near ACU, attend one of these yearly events.  It's worth the admission price, I promise!  On top of the enticing speaker lineup, TEDxACU provided breakfast, coffee, and a buffet lunch for all the attendees, staffers, and speakers.  And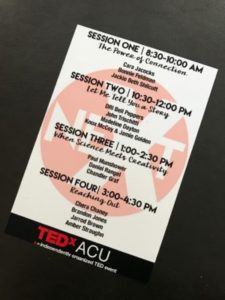 during an intermission, after an incredible TED talk about coffee (clearly one of my true loves), the TEDxACU organizers provided a coffee and cookie break!  There was a lineup of local coffee vendors (including Fort Worth's own Avoca Coffee), and each vendor offered free samples of some of their featured coffees.  Each featured coffee sample came with a list of coffee specs that were addressed in the "coffee talk" we had all just viewed.  It was a really neat twist to the event.  Unfortunately, however, after the coffee break, Vic and I had to head back home to pick up the boys who were at their grandparents' house (thanks for watching the kids so this mama could TEDx talk, mom and dad!).  I was sad to miss the live version of the last speaker circuit, but never fear, I went back and watched them all (they were excellent, of course).  And I have to confess one last thing – my favorite presentation at the 2017 TEDxACU series?  The performance by Abilene Disability Resources "Bell Peppers" – a hand bell choir made up entirely of musicians with disabilities, several of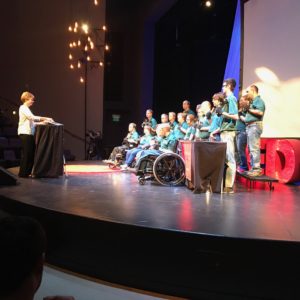 whom have Down syndrome.  When they performed "Somewhere Over the Rainbow" at dress rehearsal…it was extremely difficult to fight back all the feels.  Partly because that song tugs at the old heart strings, but also because the Bell Peppers did such an outstanding job!  There was one performer (a young lady with Down syndrome) who loudly voiced her concerns about being nervous to the conductor at the dress-rehearsal, lol.  I could completely relate (see above narrative about MAJOR speech anxiety).
So, all in all, in summary, to conclude, etc. etc…a lot of work went into this talk.  I put a lot of pressure on myself to address a series of complex topics (communication theory, research, down syndrome, Rockin' moms, entrepreneurship) while simultaneously addressing a variety of sophisticated audiences (my fellow Rockin' moms, laypersons with little knowledge of Down syndrome, and my academic colleagues). And with God's help, I think I did a bang-up job of it. The TEDx talk may not speak to everyone, but it was certainly spoken from my heart.  My sincere hope is that truly, truly….by watching and sharing this talk, we are able to start talking and thinking about Down syndrome in different ways.  And perhaps after hearing about these moms I refer to in the talk, these Rockin' moms, my readers might just get charged up enough to lead some other advocacy movements in the near future – Rockin' dads…I'm talking to YOU!  And even bigger, I genuinely pray that my efforts at tackling these personal topics in such a public way will someday inspire Everett and perhaps other kiddos with DS to become self-advocates.  After all, as William James (psychologist and philosopher) once said, "the greatest revolution of our generation is the discovery that human beings, by changing the inner attitudes of their minds, can change the outer aspects of their lives."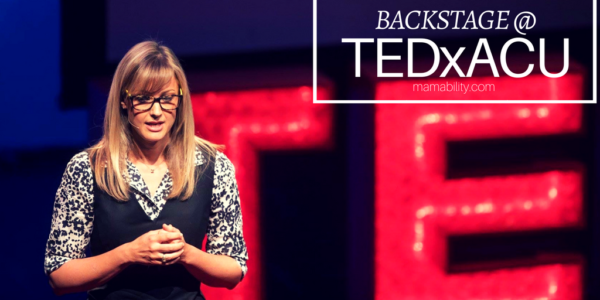 ---