Sneak Preview of TEDxACU
Welcome Back Wildcat! — A TEDxACU Talk Brings me Back to ACU
I am so excited to announce that this year, 3 days after World Down syndrome Day, I have been invited to give a TEDxACU presentation at Abilene Christian University!  When it comes to campus affiliations, I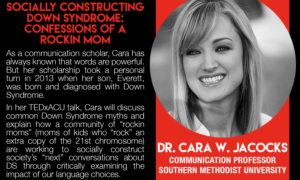 might have a little bit of an identity crisis.  I'm a fightin' Texas Aggie (twice baked, class of '01 and '14 from the Department of Comm) and a Southern Methodist University Mustang (I'm currently on faculty in the Department of Corporate Communication and Public Affairs), and I'm part ACU Wildcat! I graduated with my MA in Communication from ACU back in December of 2003. Arguably, ACU gave me my wings.  I was NOT a seasoned speaker, teacher, or scholar when I entered the program as a graduate assistant in 2002.  But when I earned my hood and diploma….I began to soar, thanks to the mentorship, friendship, and instruction I received from the incredible faculty and staff in the Department of Comm!  I can't wait to return to my alma mater and see the campus once again.  It's been more than 10 years since I've been to Wildcat country and for those of you who have never visited the Abilene area, there is one thing you shouldn't miss if you do — the food! Seriously, if you're into BBQ, steak, and good old fashioned home-cookin' (Texas style), you can't beat the selection in Abilene, TX. Perini Ranch, Bee Hive, Hickory Street Cafe, Homeplace, Harold's Pit BBQ (tragically, now closed), and Jo Allen's, are just a few of my old haunts.  Aside from food, however (lol!), I am also thrilled to be speaking about something else that I hold very near and dear to my heart — "next" conversations about Down syndrome.  I think WDSD 2017 might be a low key event around our house this year, because mama's gonna be preppin' for a big talk (and some big eatin')!  And I may have to pack up the fam and take them with me.  The boys need a true ACU/Abilene experience.  I may cry a little on the inside when Everett chooses a PB&J over a nice kids entree at Perini Ranch though.  Food aside, here's a little sneak preview of what the TEDxACU talk will be about.
Social Constructionism
So what is a social constructionism (channeling my inner Kellie Pickler here, ha!)?  Well, it's not "a" social constructionism, it's just plain old "Social Constructionism."  And it's a perspective that many communication and sociology scholars adhere to as we seek to understand language, as it is socially constructed in various contexts.  Some of the core assumptions are (Barge, 2009, p. 264; Burr, 2003; Gergen, 1999; Penman, 2000):
Our knowledge is constructed through social interaction and does not necessarily reflect a natural state of affairs.
The concepts, categories, and ideas that count as knowledge are culturally and historically specific.
Our conversations and exchanges with people construct our understanding of and knowledge about the world.
Our social constructions of the world guide how we make sense of our interactional surroundings and how we subsequently act into the context and fashion our future.
So what? And how is this related to Down syndrome?
Ahem, well, what all of this means is that as we talk and interact with each other through everyday conversation, we create our realities with our language usage and choices.  So, when people use the word "Downs" in everyday conversation, they are constructing what it means to be or have "Downs" in our current society.   Oftentimes this word, the word "Downs," comes with some expectations and assumptions about Down syndrome that are outdated (e.g. people with "Downs" are happy all the time or people with "Downs" are "low-functioning").  We can tie these ideas back to assumption #2 as the word "Downs"
stems back to Dr. Down, the physician who originally "discovered" Down syndrome, and decided to coin it "Down" syndrome (after himself, of course…because why wouldn't you name a syndrome after yourself?).  Thus, this word is tied to our history and culture (at least from a US framework).  And as we use the outdated term "Downs" in everyday conversation (e.g. He's "Downs" or he's a "Downs baby") we contribute to a larger understanding and knowledge of Down syndrome (see assumption #3).  Furthermore, with socially constructed labels, such as "Downs," our understanding about larger ideas such as Down syndrome becomes limited.  That's precisely what socially constructed labels do, they constrain our knowledge and understanding of certain topics in harmful and limited ways.  We then use these harmful and limited labels to make sense out of our surroundings, including how people with Down syndrome (and perhaps other different abilities) fit into our socially constructed worlds (see assumption #4).  In my experience, when people use the word "Downs," they often use this label based on a lack of current knowledge about Down syndrome as this word harkens back to a time in US history where "Downs babies" were institutionalized and society generally held extremely low expectations for persons with Down syndrome.  I think it's time to update our language, hence the "next" conversations theme and the TEDxACU presentation.
"Next" conversations about Down syndrome and TEDxACU
It's a new era folks.  We don't institutionalize "Downs babies" anymore and we don't segregate "Downs kids" from the "normal" kids in general education classrooms either.  Again, it's a new era.  I've heard from parents of children with DS and specialists who are
"in the know" that there is no better time than the present, for a baby to be born with Down syndrome.  There are so many medical, therapeutic and educational resources available to our children, and as these resources keep improving, so does the quality of life for our kiddos!  I've posted this a time or two on social media, but in case you forgot….in our current society, people with DS are getting married, opening up their own businesses, attending college, gaining employment, and contributing to society in very powerful and meaningful ways.  This is a far cry from the 50s when people with DS were swept away into hidden facilities.  So why are we still using outdated terminology to talk about and describe DS and PERSONS with DS?  My hypothesis – lack of knowledge.  Enter the scene, this loud-mouthed-mama who is actually pretty good at educating and increasing knowledge about topics such as communication theory and research.  So why not take the opportunity to tie in my third passion, and connect all of the above with how we talk about people with DS?  Well frankly (don't you just love the word "frankly"?), that's exactly what I'll be doing on March 24th (time and place TBA) on the great campus of Abilene Christian University through their TEDxACU series!  "Next" conversations will address how other loud-mouthed/Rockin' mamas (including me), through the DSDN, are "fashion[ing] the future" for our children by creating new conversations about DS.  Beginning with the first conversation we encounter — the "unexpected" diagnosis conversation.
So there you have it people, a sneak preview of the TEDxACU talk, a shout-out to my fellow loud-mouthed-mamas at the DSDN, a snippet on social constructionism…and a plug for my favorite BBQ joints in Abilene.  I really think these topics capture what this blog is all about for the most part. Educating and making the world a better place with up-to-date info about mamas and their babies with DS….and BBQ recommendations.  You're welcome.
More to come with this TEDxACU talk, so stay tuned!  Can't give away the secret sauce though, if you really wanna see the "talk" in its entirety (in my best Bob Barker voice)…..Come On Down!!!!
References
Barge, J.K. (2009). Basics of social construction research.  In G.J. Galanes & W. Leeds-Hurwitz (Eds.), Socially constructing communication.  Cresskill, NJ:  Hampton Press, Inc.
Burr, V. (2003). Social construction (2nd).  London:  Routledge.
Gergen, K.J. (1999). An invitation to social construction.  London:
Jacob, J. (2014). Unexpected.  Retrieved from: http://www.missiont21.com/home
Penman, R. (2000). Reconstructing communication:  Looking to a future.  Mahwah, NJ:
---