The Mama Mix – 5 Tips for a Healthy Work/Life Mix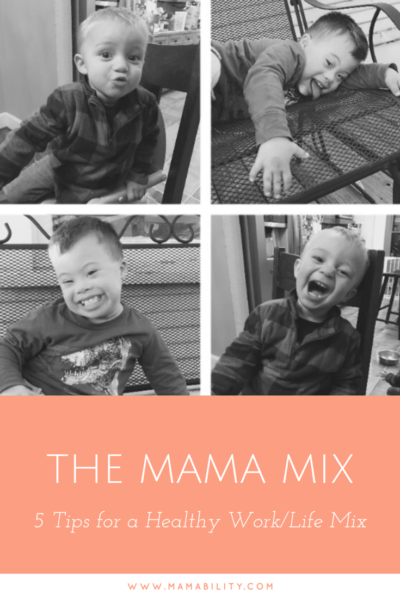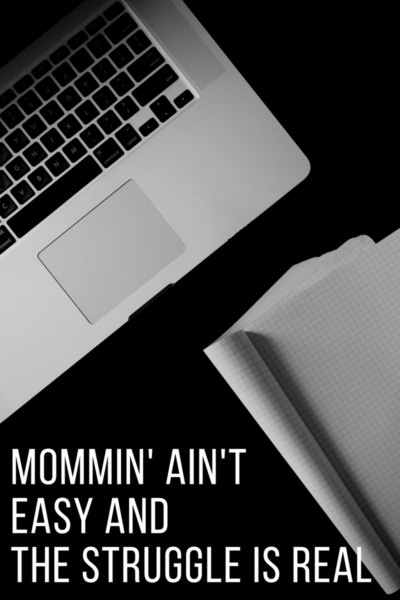 A new mom with a precious newborn baby boy with DS recently asked me what it was like to return to work after Everett born and, "How did you find the perfect work/life balance?" I struggled to answer this question because….spoiler alert — there isn't really a balance or a "perfect solution" to the work/life struggle. If you're striving for the "perfect solution" to anything, you're probably setting yourself up for failure, especially as it relates to mommin'. From my experience, in the past when I thought I had achieved "balance" or the "perfect solution" in my work/life sphere, my entire family would come down with the stomach flu (or strep throat, or something else) and I would quickly find myself in a vicious cycle of imbalance, rather than balance. And my "perfect" little solution would get tossed out the window in lieu of primordial survival. It's true…when it comes to being a busy mom these days, the struggle is real and mommin' ain't easy. And a big part of that is figuring out how to manage the many tensions in our lives that yank us in vastly different directions (oftentimes simultaneously), including those that push us towards work obligations and those that pull us back home. And while I'm definitely still a student in this area, over the course of the last couple of years as I've cycled in and out of various states of work (e.g. maternity leaves, new jobs, side hustles, etc.) while raising two small children, I've learned a few things. I've also conducted some research regarding the topics of communication and work/life balance, and along the way I've picked up a few survival strategies that have proven to be quite useful as I juggle the many mom-related and work-related responsibilities that fuel my long days/short years. If you find yourself in a situation where you could use some direction in this area, here are my 5 tips for success while seeking to strike a doable balance for you, your family, and your unique circumstances, aka, "the mama mix." It's important to note, that these tips are specific, yet general enough to help any mama who finds herself busied by a variety of occupations including the SAHM (stay-at-home-mom). It's all about the "mix," so tailor each suggestion to your own set of work and family circumstances.
The Mama Mix – 5 Tips for a Healthy Work/Life Mix
Find a calendar method that works for you and your family. Implementing the right calendaring mix to help you manage therapy and medical appointments for your child, as well as any work or personal responsibilities, is key when managing work/home duties while raising a child with unique developmental needs. We chose to use outpatient private therapy options through our local children's healthcare system, when it came time to get Everett moving in regards to speech, occupational, and physical therapy assistance. Based on our income and insurance options at the time, this was the most financially responsible decision for us. These outpatient appointments, however, were a bit time-consuming as they involved packing Everett and all of his baby gear up and driving to the outpatient facility where he would "work out." We also supplemented private outpatient therapy with ECI services (Early Childhood Intervention) where therapists and a case manager would visit our home and work with Everett twice a month. And while I actually enjoyed these appointments and interacting with Everett's incredible therapists, with 3 – 4 of these appointments a week, it became difficult to juggle my work responsibilities, these therapy sessions, all of the homework that surfaced from these sessions, and Everett's medical appointments. Eventually, Vic and I discovered the magic of the outlook calendar and syncing all of our electronic devices to an integrated calendaring system. This saved our hides on so many occasions! Whenever any appointment was made we would invite the other person (whether that person was in charge of the appointment or not), so that we were always on the same page about what was going on during a particular week. We also "invited" each other to important work-related meetings and events so that we were always in sync about professional obligations. By doing this we were able to stay on top of appointments and obligations with reminders (from our devices and from each other) and we were able to set, meet, and manage deadlines and goals for Everett's milestones and homework assignments. This worked out great for us during the busy therapy years! I know a lot of moms who use different calendaring systems, such as a family calendar, and these systems seem to help keep everyone on pace. Check out this recent blog entry from my friend Jen Jacob for some calendaring ideas and a free printable!  In summary, however, find the mix that works for you whether that involves electronic calendaring, a family calendar posted in a high-traffic area of the house, or an old-fashioned day planner.
Create a routine that works for you and your family, and stick with it as much as you can. Our calendaring system really helped with creating and sticking to weekly routines. We quickly learned what days and times were best for Everett and our work schedules when booking medical and outpatient therapy appointments. And even though our weekly routines would change because of unforeseen reasons (e.g. Everett would get sick, bad weather, etc.), we would work towards achieving a doable balance through routine as soon as we could recover from the unforeseen incident. This is fairly easy to do with a set work schedule, but it gets a little tricky when it comes to personal and home responsibilities. Vic and I found that dividing and conquering at home, and sticking to our chosen responsibilities on set times/days was very helpful. For instance, Vic is a great cook, so he took on the role of preparing dinner while I worked with Everett on his milestone homework. We would do this every evening and after dinner one of us would bathe Everett and put him to bed while the other cleaned up the supper dishes and the kitchen (we still flip coins on this one sometimes). We actually still continue this routine every evening, and even with two kids now, it works really well for us. Again, with small children following a strict daily routine isn't really feasible. But, working towards achieving a doable balance through a rough or loose daily/weekly schedule, seems to keep everyone happy, healthy and on track in our house. If one parent is working this may look a little different, but if both parents are working – I think it is critical that an outline of "who does what" at home, is drawn. Not always a fun conversation, but a necessary one (#marriage). A loose routine or a doable "mama mix" is going to look different for every family and their unique working arrangements but through trial and error, I think most families can find a mix that works for them.
Seek out local support systems. I learned immediately, that if I was going to pull off this whole WOHM (Work Outside of the Home Mom) thing with a small baby that required unique medical and therapeutic interventions, I was going to need some help. And a lot. Ladies, you cannot do it all. And you won't even come close to doing "some of it" without help. So, whenever someone offers to help you….SAY YES. Every. Time. I've mentioned this before, but Vic and I are very blessed to live near so many family members who were willing to help us with Everett and all that came with caring for him while we both worked full-time, in the early days. When I returned to work after Everett was born, I was on a MWF teaching schedule. Rather than enroll Everett in daycare or preschool, a family member would come to our home on each MWF and care for little E, one day a week. My grandparents (Everett's great-grandparents) would watch him on Mondays, my aunt cared for him on Wednesdays, and my mom took over on Fridays. And eventually, my cousin watched Everett on Fridays when my mom had work responsibilities and couldn't. At the time my cousin was homeschooling her three kids (ages 11 – 13), so Everett would attend co-op classes with his second cousins on these days. It was a great mix for everyone involved! There were many, many times when these family members baked, cooked, and cleaned for us as well. It was incredible, and to this day I am so grateful for each of these loved ones for caring for our child and us, during this stressful time (#ittakesavillage). If you have family nearby….let them help! If you don't, there are still quite a few resources you can use to help you get through those tough weeks where the dishes, homework, and deadlines start piling up. I know plenty of moms who have enrolled their child with DS in traditional daycares, preschools, and "mother's day out programs." ECI will typically visit these establishments, provide the necessary therapies and/or interventions, and communicate with both the parent and childcare provider about milestones, homework, goals, etc. This is an excellent option for working moms who don't have particularly flexible work schedules. If you live near a university or community college, you have access to a wealth of motivated, young gals who are eager to nanny for extra spending money and many of them are pursuing degrees in education, special education, occupational therapy, speech therapy, etc. (hello jackpot!). Find a way to get access to student groups and sororities on these campuses…you will not regret it once you find a responsible student who can step in and be you, when you can't be there for your child. Everett receives top notch care from his caregiver Lunden (and Bri who stepped in when Lunden was doing a study abroad last spring). And I can't forget Lexi, who cared for baby Liam so I could attend faculty meetings last spring! Incredible experiences working with these young women…I highly recommend getting involved in your local university/community college to get access to high-quality caregiving services such as these. And for support beyond working ours, many churches and faith-based organizations offer "kids night out" programs and trustworthy, dependent childcare options through volunteer programs and members who simply want to help out their fellow church-goers! Or maybe you'll get lucky like we did and you'll find a trustworthy friend who can watch your children so you can squeeze a datenight or two into your mix (like we did with our friend/caregiver, Mary…we love you M!). So whatever resources you have at your disposal, to get the help you need, whether it be ECI, private therapy, daycare, preschool, friends, family, church, universities, or a mix of these resources….make it happen and mix it up!
Embrace hacks and shortcuts. I have another confession. When it comes to all the little details related to working full-time and raising two small children (one with some additional concerns), I'm a total hack. I'm addicted to hacks, actually, because when you find a good one that gets you through the long days and subsequent short years of working and raising a small child or children…it's like striking gold! I have quite a few hacks and shortcuts that I use to get me through these long days/short years. Some of them involve throwing money at the problem (e.g. using a good dry-cleaning service so that I NEVER have to iron my work clothes) and others involve a little weekly preparation (e.g. assembling my cleaned and pressed work attire into outfits, so that I NEVER have to worry about what I'm going to wear to work). Here is a blog post from one of my former students that is my go-to for cleaning, organizing and assembling outfits for work and other events! This is just one of my many hacks, I plan on writing about more of these hacks in the future (especially the ones that save time AND money)…but in the meantime, please feel free to send me some of your favorite hacks! I would love to write a feature blog post about your "mamability!"
Embrace imperfection. So here's the deal….when you ask for help, people are not always going to do things exactly as you would. And that's okay. Deal with it, move on, and be grateful that someone helped you and took something off your plate. This one was kind of hard for me early on, but once I turned loose of striving for "perfection"…my life became much easier and enjoyable. For instance, I was blessed with two handsome little boys who have beautiful heads of hair. Each of my boys have different hair textures and colors, but they have two things in common: 1) They have A LOT of hair, and 2) Their hair is wild, unruly, and kind of hard to style. I, however, through trial and error have found the perfect mix of products and "fussing" that allows me to "coif them up" with a stylish "do" for pictures, church, school, and other formal appearances (lol!). Vic, however, cannot seem to imitate my stylish streak when it's time to "coif up" the boys in my absence. Occasionally, I have early class meetings or work obligations and I cannot always be the boys' personal stylist and Vic has to step in. On these days, I just love getting pictures of the boys at school with their mismatched outfits and their wild and unruly "dos." It used to frustrate me, but now….honestly, I'm just glad I got out of "hair and outfit" duty, or bath time, or whatever it was Vic stepped in and did. Who cares if their hair is a little out of place and their outfits are mismatched. I. Didn't. Have. To. Do. It. Learn to let go mamas…if dad doesn't fix hair, pick out outfits, or bathe the kids exactly as you would – get over it. And be grateful you have a spouse who will pitch in and help. This applies to anyone who is willing to help you, however, not just dads/spouses.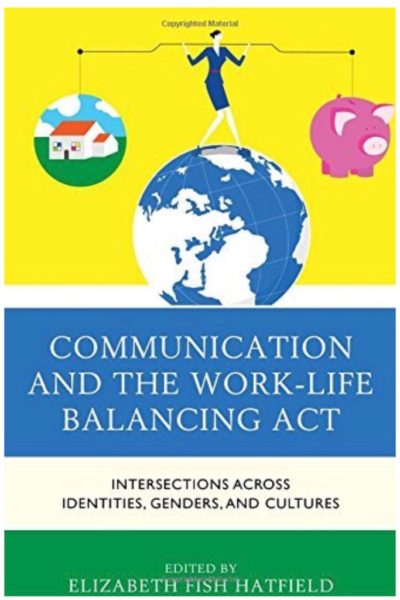 So, these are just a few of my tips (aka, my "mama mix") that helped me get through the early days of balancing being a new mom to a new baby with unique concerns, and a full-time gig! But I'll have to confess something else — Down syndrome aside, going back to work with two kids (after Liam was born) was WAY more difficult than the first time. These tips definitely got me through spring 2016 where there was a steep work/home learning curve for me, with two children at two different ages and stages. They were helpful and relevant to our specific circumstances (they still are), but there are a lot of different busy mom mixes out there relevant to others! I'd love to take credit for many of these survival strategies, but I picked several tips up from some research I conducted on work/home balance, communication, and mompreneurship. Feel free to buy the book and check it out if you are so inclined! It's super cheap, lol!  Just know that I will not see any commission or income from you purchasing this text — we academics are very bright, but have not figured out the whole fair pay for work thing for ourselves. In the meantime, what are some of your tricks of the trade when it comes to being a busy parent? In other words, what's your mama mix? Feel free to comment below! And as usual, thanks for reading and visiting mamability.com!
---