Mom Hack Monday Debut!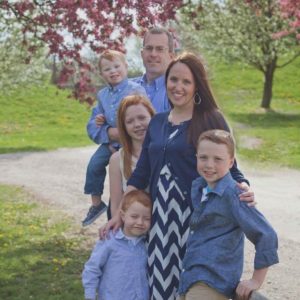 Mom Hack Monday Debut!
Featuring the lovely and talented Jen Jacob
I'd like to take a moment to introduce you to my friend, Jen Jacob, who has graciously offered to contribute the first Mom Hack Monday entry on Mamability.com!  But of course, as usual, a little context first…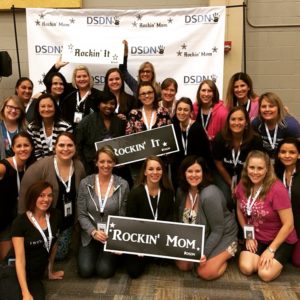 While I was pregnant with Everett, I did what a lot of expecting moms of that time did…I joined a birth club on Babycenter.com.  Babycenter.com is a great set of online resources for expecting moms that includes daily updates on the size of your growing baby (from poppyseed to pumpkin), information about what to expect during pregnancy and delivery, and a lot of resources dedicated to helping new moms oversee the growth and development of their baby after the baby is born.  One such resource is the aforementioned "birth clubs."  Everett's due date was June 26th, 2013, so I joined the June 2013 birth club.  Well, as it turns out, Everett was born in May (not June) with 47 chromosomes (as opposed to the typical 46).  So I abandoned ship by dropping the June 2013 birth club and joined the "Down syndrome" community group offered Babycenter.  I remember one day, one of the active moms of the group advertised a moms' group on Facebook that we could join.  Specifically, we were encouraged to join a mom's group relevant to the year our child was born….birth clubs for moms with babies with DS, woo hoo & bravo!!!  These groups were called "Rockin' moms groups," and I immediately joined the 2013 group.  Jen Jacob was the admin of the group and instantly introduced me to the other moms/members by virtue of a welcome post!  I was inundated with positive messages, welcome statements, and a plethora of photos of other children Everett's age who happened to have Down syndrome.  Simply put, it was incredible!  I could relate to these moms and their sweet babies, and I felt like I had a safe place to vent, brag, and pose questions about my child with Down syndrome….with no judgment.
These groups were created for that very purpose by the amazing Jen Jacob back in 2012 when her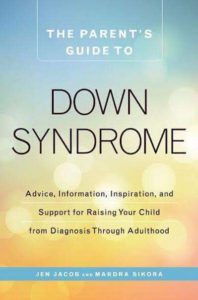 youngest son, Owen, was born and diagnosed with Down syndrome.  Jen is also the co-founder and executive director of the DSDN (Down syndrome Diagnosis Network); THE single greatest one-stop-shop of online resources for new or expecting parents of babies with DS. Currently, the DSDN is serving over 3,500 families with 19 different Rockin' moms groups organized by birth year.  There are additional groups new parents can join that cater to unique needs, such as a heart moms' group, a group focused on health and nutrition, and even a dad's group!  And if you're a new parent of a child with DS, and you want to connect live and in-person with other moms in the DS community, Jen and a group of dedicated volunteers work diligently all year long to organize the Rockin' Moms Retreat.  This retreat is hosted annually each September in a new location across the US and is geared toward educating, pampering, and connecting new moms within the DS community. In her spare time (ha!), Jen is also an accomplished author.  Her most recent book (co-authored with the incredible Mardra Sikora), The Parent's Guide to Down syndrome, was published last year and offers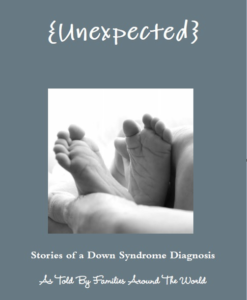 additional resources for parents of children with DS.  She also co-edited the book, Unexpected, which is a composite of diagnosis stories that several parents offer including post-natal stories, prenatal stories, delayed diagnoses, etc.  And lastly (Jen's vita is long, what can I say?), Jen has created an online congratulatory page for new parents that immediately points them to Down syndrome resources for parents, by parents.  New parents of babies with DS often do not hear or read the word "congratulations" regarding their new babies and we are simultaneously inundated with information about babies with DS provided by healthcare practitioners.  So this positive message and beginning point serves two meaningful purposes:  1)  It offers us the "congratulations" we so desperately yearn to hear, and 2)  It starts us off in the right direction with just a couple of simple resources for new parents.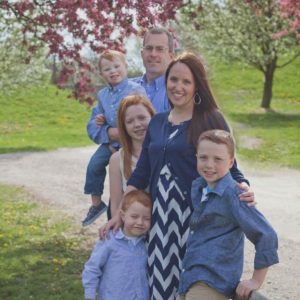 All this to say, Jen is an incredible person, an outstanding advocate for the DS community, an accomplished author, and an amazing mother of four (yes, I said….FOUR) children: Katelyn (11), Andrew (10), Colton (5), and Owen (4).  And she is undoubtedly one of the fearless leaders of our Rockin' moms community.  Pretty sure she made a point to try and speak and connect with every mom that attended the last retreat, and there were well over 100 of us in attendance.  Jen's a BOSS!  Just sayin'.
So how does she have time to do it all without pulling each individual strand of her hair out of her pretty little head, one hair at a time? Well…she's got a stellar hack, that's how. Like Jen, if you are also a busy parent with small and older children, this hack is definitely for you.  I also think this is a great hack for busy families with complicated needs and schedules, in general.  I'll add, it's no surprise that the founder of so many Rockin' moms groups, turns to the "group calendar" as her hack when times get tough :).  So without further adieu, I give you….(drum roll please)…the first Mom Hack Monday penned by Jen herself.
Jen's Mom Hack – The Group Calendar
So here is my "mom hack"…. Schedules!
I have a two-week schedule on the fridge. Each kid has a color and I compile all the other schedules onto it for a full week's view. Now I KNOW most moms have some sort of planner in place, but here is why I love it- it becomes a conversation piece each day and provides a sense of balance to our lives. I've heard that some of the time blocks our kids are most open to "listen and hear" are the first few minutes of transition times each day (e.g. after they get up, get home, start a meal etc).  So, I try to use those times each day to circle back to the schedule and make sure I touch base with each kiddo about what they did that day, or what they have coming up that week. For me, this helps ease two of my biggest fears – forgetting a kid somewhere and having one (or more, yikes!) child not feeling connected with. My group calendar/schedule has become a way for us to touch base, balance activities and communicate about our lives. With a few kids older and few kids younger, it has helped tremendously to make sure everyone is getting in some activities, but not so many that our lives revolve around it (or them!). I know that may sound awful, but I really want them to have balance and know that we all strive for that balance together.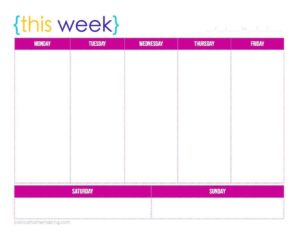 —
So that's the hack – a group or family calendar! Simple, but definitely effective. And if you click on the graphic above, it should take you to a blog with other printables and resources that are helpful to busy mamas all around.  Thank you for contributing to mamability.com Jen!  And thank you for all that you do to serve us mamas (and our babies) in the DS community! We appreciate you and love you.  And…I'm totally gonna hack this hack :).
---